It's getting pretty ridiculous around here friends. Today we are having snow/ice day number 9!!! And what else do you do on a snow day...certainly not the laundry piled up in the corner...You search through blogs of course! While doing that I found a blog I was not previously following
THE POLISHED TEACHER
from a comment she made on the
COLLABORATION CUTIES
250 follower giveaway. She is having a linky and I thought I would work on this post throughout the day today and join up. :)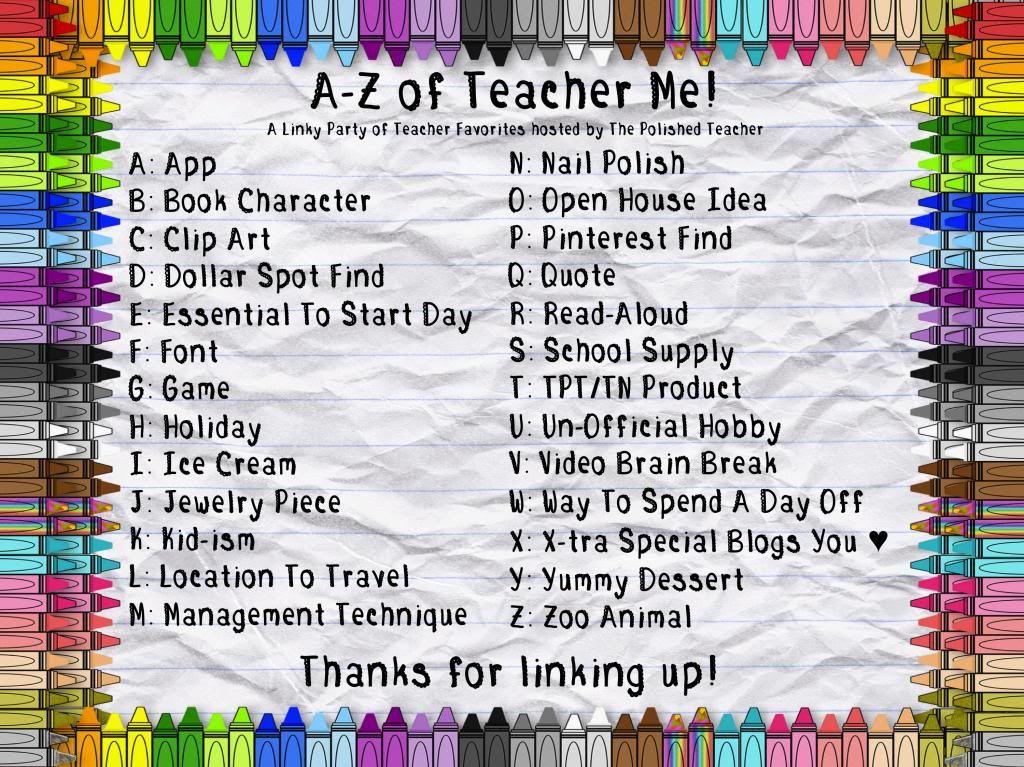 ( PS: I am having a hard time lately adding a picture link. If anyone can refresh my memory on how to do that, so people can just click the pic and go that would be awesome. :)
A: App: My favorite App is actually the Christmas countdown on my phone. It tells me to the second how long until Christmas. ( As of typing this there is currently 10 months, 13 days, 11 hours, 20 minutes, and 11 seconds) LOL!
B: Book Character: I have a thing for strong female characters. I love Olivia from the Olivia books and Annie from the Magic Tree House books and Clementine from the Clementine series. I love Olivia's tenacious and flamboyant behavior. I love Annie's boldness and kindness. I love Clementine's curious nature and impulsivity. I find all of these characteristics in my daughter too. That's probably why I love them so much. :)
C: Clip Art: I am too new to making things using clip art. I don't really have a favorite one... yet.
D: Dollar Spot Find: Oh Dollar Store...How I love thee....Mine stocks borders and punch-out letters and numbers. They have great baskets in many fun colors. And I love to get stuff for my prize box there. About once a month I take 15-20 bucks and blow it there. It's one of my favorite places to shop. :)
E: Essential to Start the Day: A shower! My hair gets super greasy easily ( Thanks Dad!) and also I need that water to really wake up. Once I am awake though I MUST have my iced coffee. This is the kind that I super love.
Mixed with a cup and half of non fat milk. So Delish!
F: Font:

KB Striped Pajama

s by Khrys Bosland is my favorite font.

You can get it HERE

. AND best of all it

'

s a FREE one!!



G:Game: We try to have a family game night once a month with my family. Two of the games that we love to play are Apples to Apples and Truth Be Told.
With my classes though I love to play I Have, Who Has games.
H:Holiday: I think anyone who is reading this post will be able to answer this question. Hands down, Christmas. A close second is Thanksgiving for two reasons. 1: I don't cook. My husband slaves away in the kitchen for our AMAZING dinner. 2: Its Christmas Season Eve. :)
I: Ice Cream: Mint Chocolate Chip. Any brand. SO good!
J: Jewelry Piece: First if my wedding ring, second would be the Relic/ Fossil watch my husband bought me for Christmas. I wear both almost daily.
K: Kid-ism: My daughter is 3 so she doesn't always speak correctly. I am not an advocate fo speaking baby talk to your child or encouraging them to say things wrong on purpose. However, my daughter uses she instead of her. So for example tonight she said " Mommy can you put a pony in she hair. I will hold on to she." I don't know why, but I love, love, love when she says it.
L: Location to Travel: I am not really a big traveler. I do like going to Chicago or to Lake Michigan to the beach over the summer.
M: Management Technique: I really got into Whole Brain Teaching over the summer. Amanda at TEACHING MADDENESS is going to a WBT workshop over the summer and I am SOOOOOOO jealous! I watched this VIDEO on You tube ( I found it through Pinterest) over the summer and I was hooked. I have implemented some of the things this year but have a LONG way to go.
N: Nail Polish: Clear is about all I have time for...even though I super love when my nails have color...go figure.
O: Open House Idea: We do a back to school night/ meet the teacher night but not really an Open House where the parents get to come in after school has started. Ours is done before school starts. I leave a treat bag at each seat and an instructional packet. That way I can remember who came and who didn't.
P: Pinterest Find: IMPOSSIBLE to answer. I LOOOOOOOOVE Pinterest. As of this morning I have 95 boards and over 5,000 pins. That's like asking someone who their favorite child is. LOL. I don't have a link on blog ( yet) to get to my pinterest page so you can follow this awesomeness. But if you click HERE it will take you to my boards.
Q: Quote: This was a hard one to choose...because I have so many. I narrowed it down to these three though.
This is one of my favorite quotes of all time. I know it's not very educational-y ( even though it is from a book) but I had to include it.
R: Read Aloud: I LOVE the Wayside School books. They are one of the few books I have read every year I have been teaching. I love the humor in them. I love when one of my peanuts gets some of the obscure humor and I love being able to do different voices. My kiddo's always LOOOOOOOOOVE them.
S: School Supply: Glue sticks, glue sticks, glue sticks. I think I would choose this because they seem to disappear SO quickly and if I got a bunch at the beginning of the year I would be so, so happy. ( My room mom last year stocked up ALL summer long and brought me in an entire take out bag's worth. Yet somehow we are STILL dwindling down this year. I think they grow legs!)
T: TPT product: I would have to say really ANYTHING Amy Lemons makes is fabulous. I have two favorites though. Her WINTER FRIENDS CRAFT and FRACTION SUNDAES . Those were some of the first items I ever bought on TPT, so they hold a special place in my heart. :)
These are pics from when my kiddo's made them. :)
U: Unofficial Hobby: Pinning. I am known for it around my school. Also I am a VORACIOUS reader. I can't get enough of books. I am currently reading the Beautiful Creatures series and I love it!
V: Video Brain Break: We love the Adventure Fitness videos...especially when we have inside recess....for the 4th day....in a row... You can find it HERE and the best part is it's FREE!
W: Way to Spend a Day Off: Shopping. Is there any better way to spend your time. Second would be cleaning my house. I have a sickness. And of course over all it would be doing both with my peanut. I love spending time with that kid. :)
X: Xtra Special Blogs to You: Oh goodness, how do I choose.
One is

. Angela Nerby is the creative mind behind this blog. Go HERE to follow her. She and I started out blogging around the same time. I don't understand how she doesn't have like 500+ followers by now. EVERY time I check her blog I learn something cool to do with my own peanuts...or bunnies as she calls them.
The holy grail of blogs for me has to be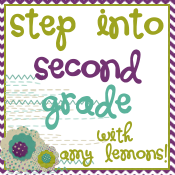 . Who in the blogging world DOESN'T know about this girl?! But if you don't you can check out her blog HERE. She has the cutest idea's and I will probably wind up owning every single item she has for sale on TPT some day.
Y: Yummy Desert: There are very few deserts I don't like. Overall my favorite would have to be dirt pudding. My mom makes this for my birthday every year...even though I am going to be *coughs* 31 * coughs* I know she will still make it for me. :)
Z: Zoo Animal: I have always liked seeing the bears. There is just something about seeing those massive creatures that I really like. However, we went to the zoo the first weekend after school got out for the summer last year ( and we are hoping to make it a tradition). At the zoo closest to us, John Ball Park Zoo, they have a bird cage where you can go in a feed the birds. They land on your stick and eat right out of your hand. Finley had so much fun and made those girly squeals of delight that tell you a little girl is really having the time of her life. Because of that, those silly parakeets are probably my favorite now. :)
PHEW! There you go. The A- Z's of me. So if you have a snow day like me or an hour to spare. Go link up! :)