Happy Thursday Friends!
Ok, so I know I am a little late to the Monday Made It party this week, but I also wanted to link up with the Dollar Days linky. Kaylynn at
Teacher Without
a Class featured my dollar days post on her first DD linky of the summer and it totally made my day. :)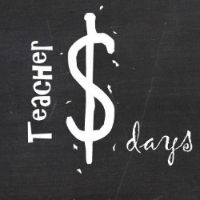 All of my made its also fit in with the dollar theme of the dollar days linky.
MADE IT #1
This is a home made it.
So I talked before about making a pinterest board for my summer bucket list and I finally accomplished one of the projects on it.
This was my pinspiration.
And this is my version.
I got the wreath at the Dollar Store and spray painted it. Then I found the chevron ribbon and flower at Walmart and VOILA! Something beautiful to hang on my door.
MADE IT #2
Ok, so the photo album project! Every year that I have been teaching I make a photo album for my students of our year together. I usually send that, along with a letter for them and a thank you note for their parents, in the mail a couple of weeks after school gets out...because, well it takes me that long! In the past I ordered the pictures, sorted through them, and then wrote on scrapbook paper what was going on in the pictures. This year I decided to put my newly acquired use of fonts and clip art to good use and do all of the labels on the computer. Each kid has pretty much the same activities, with a few differences if they weren't there for that particular day.
Start with a $1 4X6 photo album. I got mine at Walmart and have for the past 6 years.
I made this cover for each of them. I covered up the name on this one but each one has their name.
These are a few of the inserts that I made.
( I used the Rowdy Fonts by Rowdy in Room 300 and Sonya Dehart Designs borders. There are a couple of Scrappin' Doodles clip art pictures there too, but I don't remember where the others came from. )
I wish I could show you the finished product a little more but because of all the pictures and privacy I obviously cant. They turned out SO stinkin cute! They are A LOT of work but I always get compliments on them. Plus, now that I have had several repeat families over the year they kind of expect that. I have had a couple who ask at the beginning of school even if I still do that. :)
MADE IT #3
FINALLY got something done off of my TPT to do list. It is something that one of the Kindergarten teachers at my school asked me to make.
This is an I Have, Who Has game for the letters of the alphabet. I used the SUPER cute graphics from Scrappin Doodles on each card.
You can check it out here in my TPT store for, you guessed it, $1! :)
Well, that is all for now. If you have a made it or a $1 item link up too! I am off to set up for our big 4th of July party! Happy 4th of July everyone. Thank you to our servicemen and women ( and their families) for all of the sacrifices they made/ make for us.
~Jean~