Erica over at Sprinkles to Kindgeraten ( you can follow it here:
http://sprinklestokindergarten.blogspot.com/
) reached 400 followers! (Someday I hope to have that many!) Anyway, to celebrate she is having a truly AMAZING giveaway. All of my teacher friends should go and check it out. If you don't have a blog to follow some of the sites you can still go on and follow the Teachers Pay Teachers stores...or create a blog. This one is totally worth creating accounts at both places.
Vickie at Mrs. Plant's Press ( you can follow it here:
http://plantspress.blogspot.com
) is ALSO having a giveaway. She has 500 followers! I can't even imagine! Go check it out and enter to win all of her sweet loot too!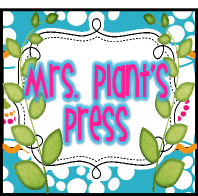 Congratulations to both ladies. That is so awesome!