When I started updating my blog and really getting into the blogging scene this summer I had one follower, the former art teacher at my school who had followed all the teacher blogs at school. Nothing special. When I figured out how to add Google friends follower I added myself as a follower of my blog because the one picture looked so lonely. :( I did my first linky party for the newbie blog hop and bam! I suddenly had a follower and
then another one. My husband came home from the movies that night and I came pounding up the stairs from our basement as fast as I could to proudly announce that I had 4 people following my blog and I had figured out the steps to create a hyperlink for when I commented on other people's blogs. Then I promptly turned back around and ran back downstairs.
I told myself then that if I ever reached 25 followers ( really 26 since I didn't want to count myself!) that I would do my first giveaway to thank those people who had thrilled me by following me. :) Well, yesterday when I logged on I had hit that magic number! If you go to Teachers Pay Teachers you will see on my profile that I am signed up for a store but there is nothing in it. Since I obviously don't have something cute from my store to giveaway to you all, I thought I would do a $10 gift certificate to Teachers Pay Teachers.
However!!!! To sweeten the pot. If I can get up to 50 followers by the end of this giveaway I will up the ante and award 2 $10 gift certificates. So SHARE, SHARE, SHARE! I know it's not the most exciting giveaway but I'm new to this AND who among us can't use $10 of free TPT product?!
SO, here's the deal. I have been trying to get on to rafflecopter to use that for my giveaway, but unfortunately it is not letting me on. So the way to enter the giveaway is simple, follow my blog and leave me a comment in the comments section of this post. I will use a random number generator when it's all said and done to figure out who my lucky winner ( or two?) is. This giveaway will go for 1 week. That means it will end next Monday, August ( already!) 6th. I will do my winner post on Tuesday, August 7th. :)
NOW, on to the linky party.
I am linking up with the wonderful Amanda Madden at Teaching Maddeness to share my New (School) Year Resolutions with you all. My very first post on this blog last August was about my resolution to keep my blog updated throughout the year. I failed on that one. But all the same, I am going to add my 4 New School Year Resolutions for this year and hopefully, I actually keep these this year!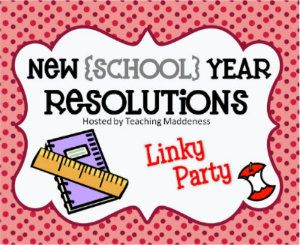 RESOLUTION #1. KEEP UP ON MY BLOG! I made this resolution last year and didn't do it. I am hoping that now that I have gotten the hang of it a bit more, have people following me, and have put it out there for more people to see, that I will actually follow through with this one.
RESOLUTION #2. KEEP UP ON WRITING BINDERS
I keep all of my kiddo's writing throughout the year and then I send it home in a 3 ring binder at the end of school. Last year I had every intention of using the binder at all 3 of our Parent Teacher Conferences. I didn't have them ready until the last one. Not the most effective use of them. This year I hope to have all the papers in the binders for EACH conference and not keep them in a stack in the back of the tub after I grade them.
RESOLUTION #3: DO NOT HAVE A STASH BOX UNDER MY DESK!
I LOOOOOOOOVE to be hyper organized. I HATE clutter on my desk. BUT there are times when I print a bunch of things out, swap out station activities, have a bajillion things going on etc and I need somewhere to put those items so they aren't cluttering up my desk top. Enter a scholastic book box that I started putting things in a year and half ago and JUST completely emptied last week. Don't get me wrong,I didn't have year old papers stashed in there. It's just that for every item I took care of it seemed like 2 more would take their place. BUT! No more! :)
RESOLUTION #4: BE AN AWESO
ME MENTOR
I'm pretty psyched to have my first pre-student teacher observing/ learning/ helping out in my classroom this fall. They will be doing 80 hours of observation as part of their method's classes. This is the last step before they will start student teaching. I had great mentor teachers for all of my field placements and I hope that this person will get some good idea's that they will take into their student teaching and beyond.
So there we are. My resolutions for this school year. Maybe I should add a number 5 which is to keep numbers 1-4! Ha-ha!
Link up and share your resolutions with the rest of us and enter and share my giveaway! I would love to be spending $20 instead of $10! :)